Innovation and Expertise in Vein Care
La Jolla Vein Care is southern California's premier vein center, providing comprehensive vein care to San Diego and surrounding regions. La Jolla Vein Care was established in 2010 to provide highly specialized care for vein conditions such as varicose veins, venous insufficiency (venous reflux disease), spider veins, and venous leg ulcers. Non-surgical and minimally invasive techniques are used to treat both medical and cosmetic vein disorders in a personalized and comfortable setting.  On-site diagnostic duplex ultrasound examinations provide convenient and comprehensive varicose vein evaluation.
As a specialized vein center, a variety of safe and effective vein treatment options are available. As a result, vein care is individualized and based on what is best for the patient rather than on what is available. The vein center is staffed by board-certified venous disease specialists (phlebologists) and other highly trained staff. Dr.'s Bunke-Paquette and Fronek have been acknowledged for their contributions to the field of venous disease by being awarded the distinguished designation of Fellows of the American College of Phlebology. La Jolla Vein Care is centrally located at the Scripps Memorial Campus off the interstate 5 at Genesee in La Jolla.
La Jolla Vein Care on KUSI News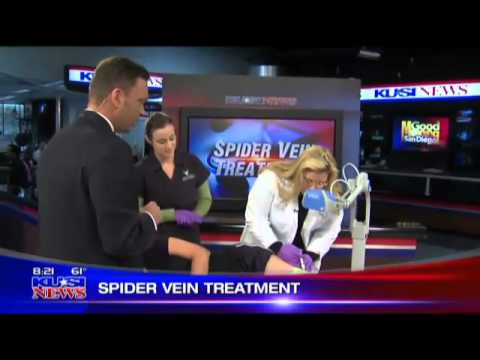 Dr. Helane Fronek on a PBS Vein Health Special
La Jolla Vein Care Featured